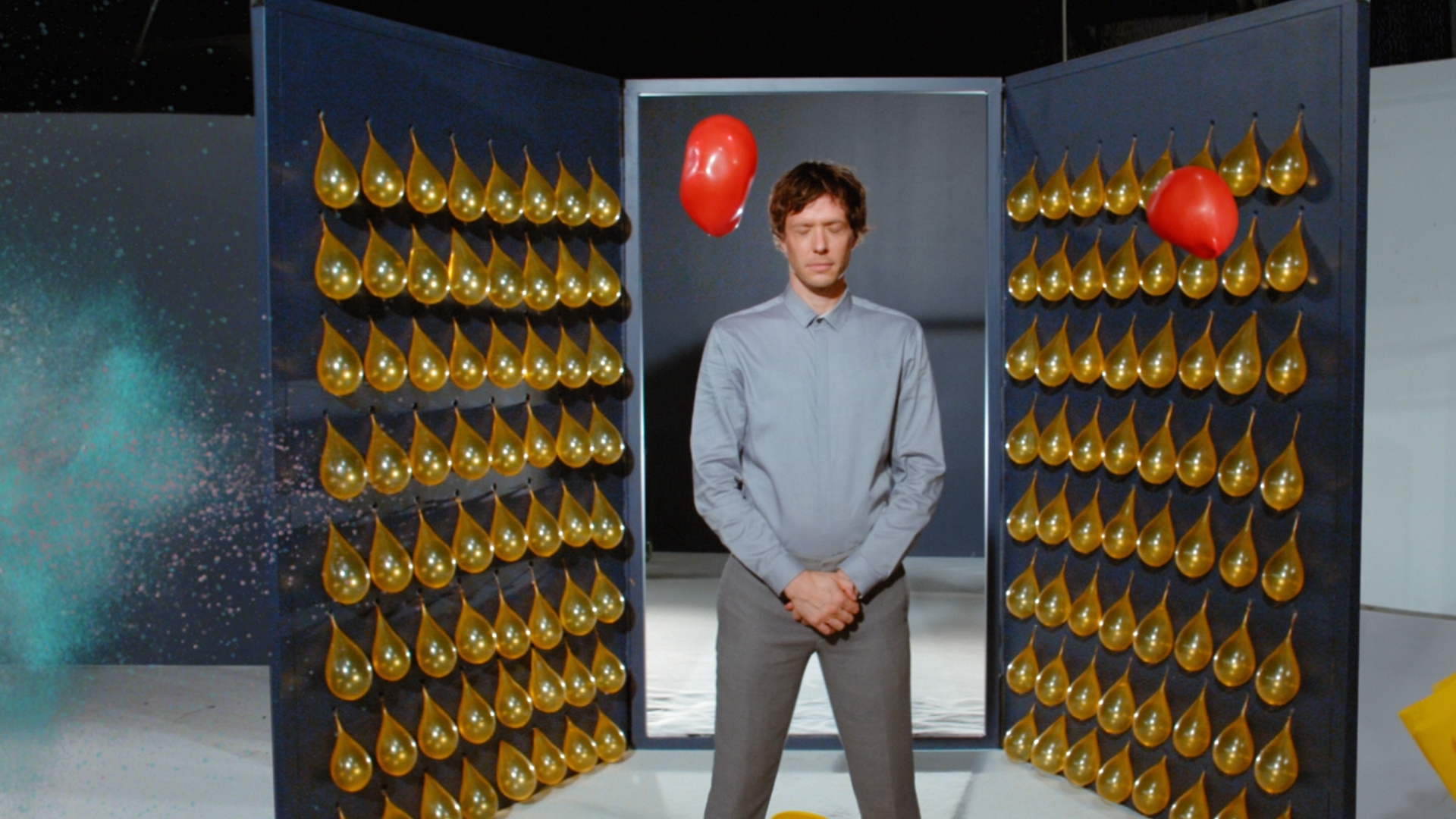 Background notes and full credits for
"The One Moment" Video by OK Go.
Damian Kulash, Jr. (director and singer)
The Idea and the Inspiration
The song "The One Moment" is a celebration of (and a prayer for) those moments in life when we are most alive. Humans are not equipped to understand our own temporariness; It will never stop being deeply beautiful, deeply confusing, and deeply sad that our lives and our world are so fleeting. We have only these few moments. Luckily, among them there are a few that really matter, and it's our job to find them. (We had no idea when we wrote the song that we'd be releasing its video in such critical moment for our nation and the world. It's one of those moments when everything changes, whether we like it or not, so the song feels particularly relevant)
For the video, we tried to represent this idea literally — we shot it in a single moment. We constructed a moment of total chaos and confusion, and then unraveled that moment, discovering the beauty, wonder, and structure within.
Most of our videos have sought to deliver wonder and surprise, and this one is no exception. But usually our tone has been more buoyant, more exuberant. For this song — our most heartfelt and sincere — we wanted the sense of wonder to be more intimate and contemplative.
Having said that, there is still a huge amount of paint slung around. I guess you can take the band out of…..
How did you do that?
We used very precise digital triggers to set off several hundred events in extremely quick succession. The triggers were synchronized to high speed robotic arms which whipped the cameras along the path of the action. Though the routine was planned as a single event, currently no camera control systems exist which could move fast enough (or for many sections, change direction fast enough) to capture a movement this long and complex with a single camera, so the video you see connects seven camera movements.
How long did the routine take in real time?
The first three quarters of the video, from the beginning of the song until I pick up the umbrella at the a cappella breakdown, unfold over 4.2 seconds of real time. Then I lip sync in real time for about 16 seconds (we thought it was important to have a moment of human contact at this point in the song, so we returned to the realm of human experience) and we return to slow motion for the final chorus paint scene, which took a little longer than 3 seconds in real time.
How many things happen in it?
It sort of depends how you count "things," but the there are 318 events (54 colored salt bursts behind Tim, 23 exploding paint buckets, 128 gold water balloons, etc.) that were synchronized to the music before the breakdown. After that there are only 9 digitally triggered events.
Just how slow is this, and is it all one speed?
It is not all one speed, but each section is at a constant rate, meaning that time does not "ramp" (accelerate or decelerate). We just toggle from one speed to another. When the guitars explode, we are 200x slower than reality (6,000 frames per second), but Tim and Andy's short bursts of lip sync (Tim twice and Andy once) are only 3x slower than real life (90 frames per second). The watermelons are around 150x, and the spray paint cans are a little over 60x.
How did you plan all this?
The whole point of the video is to explore a time scale that we can't normally experience, but because it's so inaccessible to us, our tools for dealing with it are indirect. The only way we can really communicate with that realm is through math. The choreography for this video was a big web of numbers — I made a motherfucker of a spreadsheet. It had dozens of connected worksheets feeding off of a master sheet 25 columns wide and nearly 400 rows long. It calculated the exact timing of each event from a variety of data that related the events to one another and to the time scale in which they were being shot. Here's a screen shot of just the first few lines, to give you a sense.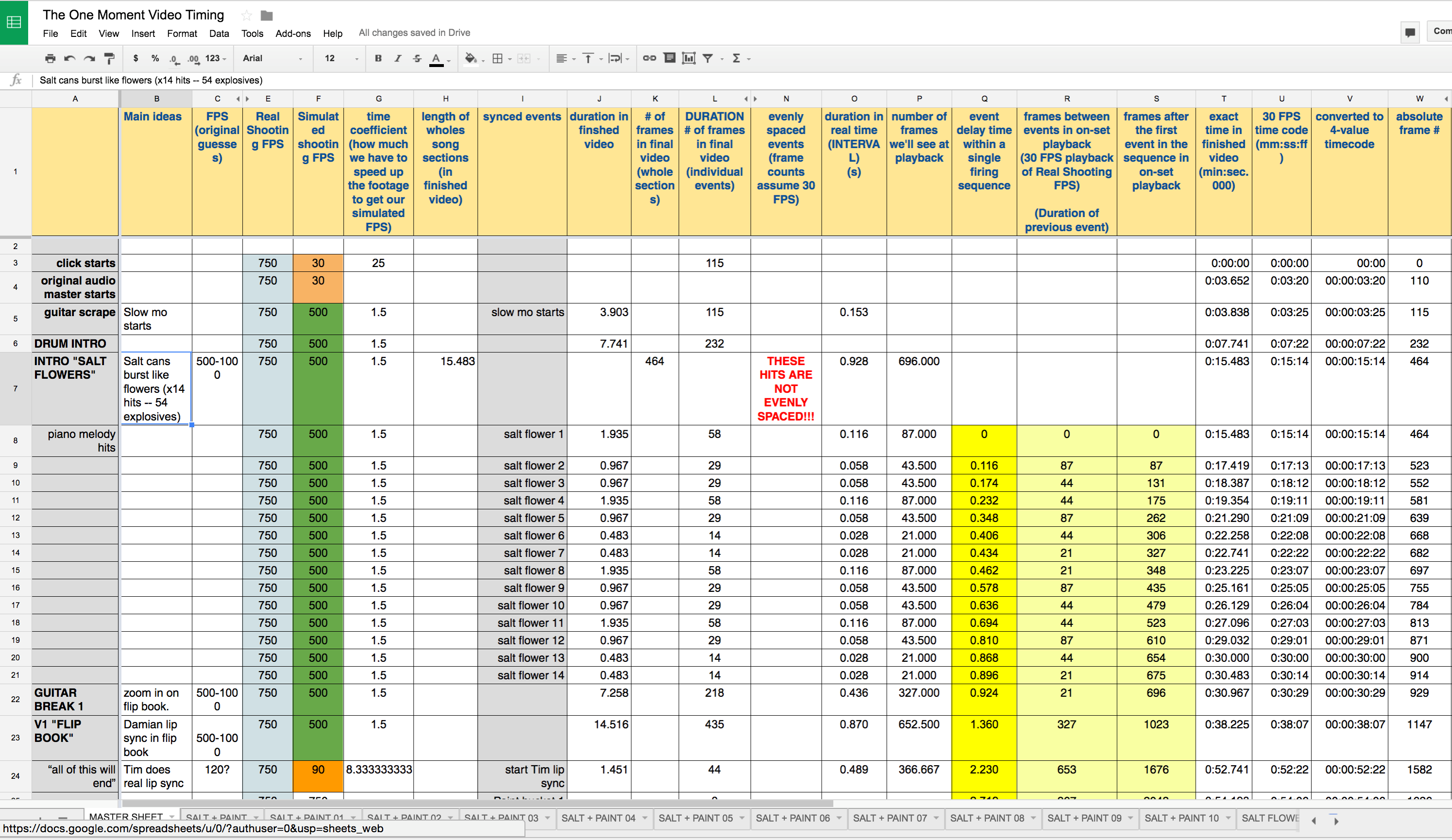 Did you really blow up all those guitars?
Yes, but they were already being scrapped by Fender for not meeting their quality control standards, which is to say they were defects. No playable guitars were harmed in the making of this video.
What role did Morton Salt play, and what is #WalkHerWalk
Morton Salt have recently launched a campaign to support a group of people who are bravely making a positive difference in the world. They've pledged funding and assistance to incredibly inspiring and effective young innovators who are tackling difficult issues like the global water crisis, the plight of young female refugees, systemic failures in arts and music education, and children's health and wellness education. The slogan for this campaign is #WalkHerWalk, a reference to the girl in their iconic logo, and you can learn more about the innovators and the many facets of the campaign at http://MortonSalt.com/WalkHerWalk.
Morton was moved by the message of "The One Moment," and felt it captured the spirit of what they are trying to do with #WalkHerWalk, so they reached out to us and asked if we were interested in making art with their salt – a video that could fly the banner for their initiative. We were impressed with their efforts to support positive change, so we proposed this idea, and together we collaborated to bring this video to life.
OK Go:
Damian Kulash
Timothy Nordwind
Andy Ross
Dan Konopka
Directed by Damian Kulash
Produced by Park Pictures
Executive Producers: Justin Pollock & Jackie Kelman Bisbee
Producer: Pat Frazier
Director of Photography: Shawn Kim
Production Designer: Bradley Thordarson
First Assistant Director: Jonathan Watson
Executive Brainstormer: Elan Lee
Camera:
First Assistant Camera: Chris Slany
Second Assistant Camera: Matt Sumney
Phantom Tech: Patrick McGraw
Behind the Scenes: Ross Harris
Stills: Daniel Goldwasser
Motion Control:
Bolt Programmer: Simon Wakley
Bolt Assistants: Chris Toth, Leo Roberts
Lighting:
Gaffer: David "Blue" Thompson
Best Boy: Randy Dye
Electric: Jeff Matthews, Adan Galindo, Shaun Stallard, Louie Manzo
Grip:
Key Grip: Colby Dunford
Best Boy: Joseph Messier
Grip: Curtis Brown, Randy Granger, Ray Chase
Art Department:
Art Director: Steve Christenson
Art Coordinator: Katy Shirey
Set Decorator: Tally Duke Floyd
Leadman: Lance Rosa
Set Dresser: Andre Price, Kevin Quinn, Silvio Scillone, Tony Alvarez, John Selmo
Prop Master: Ben Ferene
Prop Assistant: Mark White
Lead Painter: Jamie McElrath
Painter: Molly Holnick
SPFX Supervisor: Kelly Kirby
SPFX Foreman: Robert Garrigus, Doug Calli
SPFX Tech: Steve Shines
SPFX Tech: Bill McGinley
SPFX Tech: Rich Jacobs
Set Dresser FX: Aaron Ferene
Production Supervisor: Ari Chang
Second Assistant Director: Ricky Weaver
Assistant Production Supervisor: Amanda Andrews
Script: Kristy Kelly
VTR: Tom Myrick
Craft Services: Michael Backlinder
Production Assistants: Brian Lierk, David Rada, Robert Lomeli, Oscar Matute, Chris Maltauro, Morgan Pham, Melanie Cycz
Make-Up: Kristen Shaw
Wardrobe Stylist: Christina Blackaller
Assistant Stylist: Laurel Rose
Editorial:
Editor: Cass Vanini
Assistant Editor: Ben Foushee
Editorial Producer: Sari Resnick
Visual Effects:
Artjail
VFX Supervisor/Creative Director : Steve Mottershead
Head of Production: John Skeffington
VFX Producer: Adriana Wong
Previz: Darren Chang
Titles: Ryan Hawthorne
Colorist: Shawn King
For Ogilvy:
Joe Sciarrotta, Chief Creative Officer
David Hernandez, Executive Creative Director
Amy Gozalka, Creative Director
Kara Coyle, Associate Creative Director
Gayle McCormick, Executive Producer
Annie Larimer, Senior Producer
Philip Puleo, Project Manager
Paige Robinson, Management Supervisor
Katie Quinn, Assistant Account Executive
For Morton:
Dir. of Communications & Corporate Brand Strategy: Denise Lauer
Sr. Communications Manager: Paul Jackiewicz
Head of Sales and Marketing: Shayn Wallace
Sr. Director, Brand Marketing: Peter Sashin