Today is THE DAY. Not Election Day (well, yes, Election Day) and not El Dia de los Muertos (well, yes, El Dia de los Muertos) but ALSO it's the day that the EXTRA NICE EDITION of our album Of The Blue Colour Of The Sky is released in the US and Canada!
A fan dubbed it #ExtraNiceTuesday on Twitter, and that has a nice ring to it, so we're stealing it (in the true spirit of the internet). Happy Extra Nice Tuesday everyone!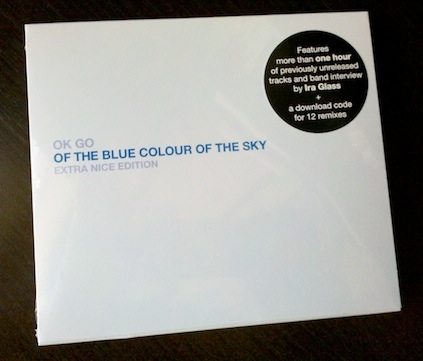 The Extra Nice Edition of the album comes complete with an entire second disc of bonus material, as well as a download card for 12 OK Go remixes.
You can buy it at places like:
The Official OK Go Merch Store
iTunes
Amazon
Your Favorite Independent Retailer
You can listen to three tracks from the release on AOL Spinner.
We'll be streaming other tracks here on our website throughout the week, so be sure to check back for that. And thanks for supporting the re-release, everyone. We know it can seem insane to release an album three times, but let's just say we are finally getting to do things the way we want and can't help releasing more material related to this album. We hope you enjoy listening to it as much as we enjoyed making it.