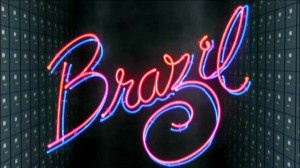 Are you Brazilian? Do you live in São Paulo or Rio de Janeiro? Consider this a spoiler alert, then. Because this is totally going to kill the surprise if you walk around a corner next week and randomly see OK Go playing on the back of a truck. Sorry for ruining it, but warning you in advance seems only right and fair if you want to catch one of these special shows. But even if you can't make it to South America, you can still join in the fun.
You can watch Twitter and Facebook all week for exclusive videos of the guys hanging out south of the equator, but you can also participate in the project via a new microsite launched today where you can create tweet-pixelated versions of your favorite OK Go videos. The trip down south will culminate with a sure-to-be super-excellent one-song live-stream performance from the streets of Rio that will transform into the world's first participatory tweet-pixelated video. Confused? Simply follow the instructions on the site and beam your messages and avatars in using Facebook and Twitter to watch your contributions swirl into the mix. Check out the schedule below, and stay tuned for more surprise shows we'll announce soon, including the aforementioned live-stream event!
And, if you're in São Paulo or Rio: please be patient. This might also be the first rock tour in history where the venue could literally get stuck in traffic instead of the audience. In the meantime, some mood music.
OK Go in Brazil – all times approximate
November 19th in São Paulo:
16:00 GALERIA DO ROCK – AV. SAO JOAO 439 CEP 01035-000
21:45 TREVO ESTACIONAMENTO – RUA AUGUSTA ALTURA DO NÚMERO 700 (ESQUINA COM RUA DONA ANTÔNIA DE QUEIRÓS), CEP 01304-001
November 20th in São Paulo:
19:00: AV. BRIGADEIRO FARIA LIMA, 3825, CEP 04538-133 (EM FRENTE AO POSTO DE GASOLINA), ITAIM BIBI
21:45: OPEN BAR, RUA HENRIQUE SCHAUMANN, 794, CEP 05413-011
November 23rd in Rio de Janeiro:
17:00: AV. VIEIRA SOUTO, ALTURA DO NUMERO 110, IPANEMA, CEP 22420-000
21:00: AV. MARACANÃ, ALTURA DO NÚMERO 766, PRAÇA VARNHAGEN, MARACANÃ, CEP 20511-060, 21H
November 24th in Rio de Janeiro:
21:00: BAIXO GÁVEA, PRAÇA SANTOS DUMONT, ALTURA DO NUMERO 108, CEP 22470-060
November 25th in Rio de Janeiro:
13:00: PRAÇA FLORIANO, ALTURA DO NÚMERO 55, CINELÂNDIA, CENTRO, CEP 20031-050
23:00: AV. MEM DE SÁ, ALTURA DO NUMERO 47, LAPA, CEP 20230-150