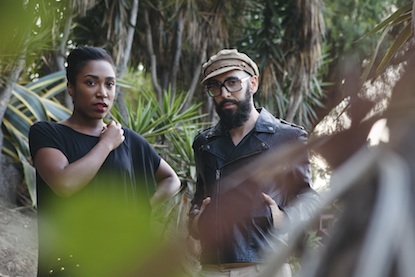 It's not everyday that Tim puts out a mysterious new project. But this week, that day happened to be Monday, and the project is Human Beings, the debut EP by PYYRAMIDS, Tim's collaboration with Drea Smith, formerly of He Say She Say.
It contains almost a half-dozen new songs by Tim and Drea — dark and dancy, with lots of messy heartbreak, and other things ideal for these long autumn nights. You can hear it in all kinds of ways. We recommend the 10-inch vinyl but, hey, you can get mp3s, too.
And videos. Oh, yes, there are videos. Use your webcam to make an interactive video for "That Ain't Right." Or watch the blurry, love-achy version that Ericka Clevenger directed below.